Living Off Dreams in Hong Kong – Interview with Marti, the creator of the Little Fighter and Hero Fighter series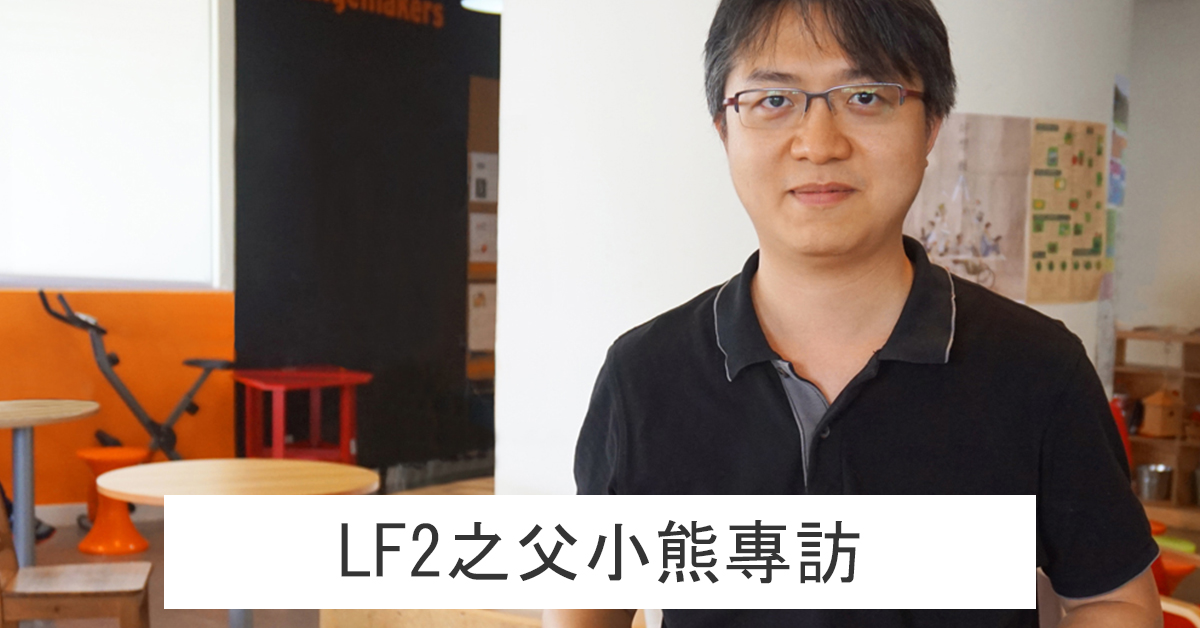 When chasing your dreams, how far will you go before giving up? Despite how difficult the life of an indie game developer is, especially in Hong Kong, Marti Wong decided to keep chasing until his dreams became a reality. Fortunately his efforts paid off – Marti's original 'Little Fighter' game is one of the most successful computer games to come out of Hong Kong with more than 20 million downloads. Now looking to find the same success in the highly competitive mobile game market, Marti is releasing his latest title– Hero Fighter X.
"In Hong Kong it is very hard to be creative because the cost of failure is too high. Nowadays, this is why many game companies are just copying successful game models from the west. But my dream is to create a unique game combining Chinese history with real-time strategy and action to bring it from Hong Kong to the world."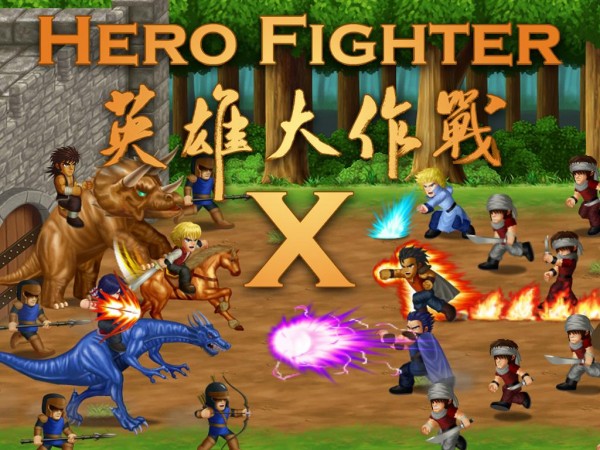 Finding Unexpected Success
During the 2000s you could always find teenagers filling internet cafe and even computer rooms in schools. They would crowd in front of a computer, one keyboard with eight hands, and the screen showing characters fighting each other. 'Little Fighter' has seen immense popularity in Asia, but surprisingly it was never expected to be so successful.
Marti made the 1st generation of Little Fighter in high school. He then attended a Chinese university where him and his roommate, who shared his love of computer games, developed the 2nd generation of Little Fighter together. They even used the game engine for their project required at the end of the year. To their surprise, the game became an instant hit with more than 20 million downloads, and his final year project also earned them an A grade.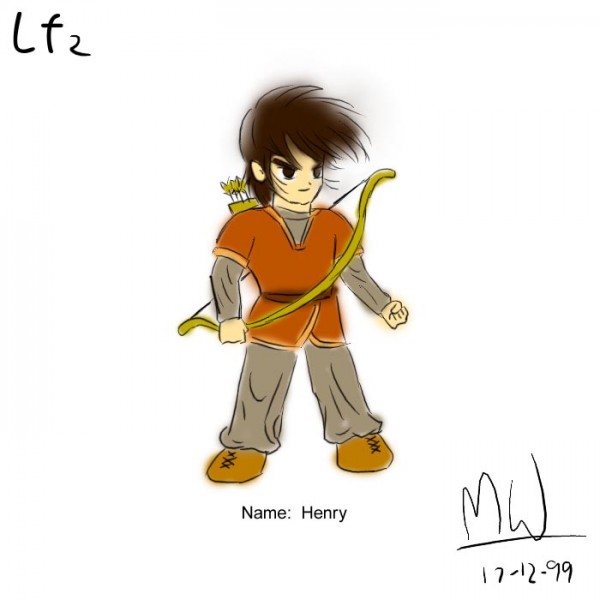 LF2 Henry design
But because the game was free, Marti didn't make any money from its popularity. After graduation, Marti began to work for a technology company. He worked there for several years but eventually could not hide his passion for game development. In 2008, he quit his job at Microsoft to do the unthinkable – become one of the few indie game developer in Hong Kong.
"At that time I gave myself a 2 year period where if in those 2 years I didn't see any results, I would quit the road of indie game development. But here I am 7 years later still doing it," said Marti.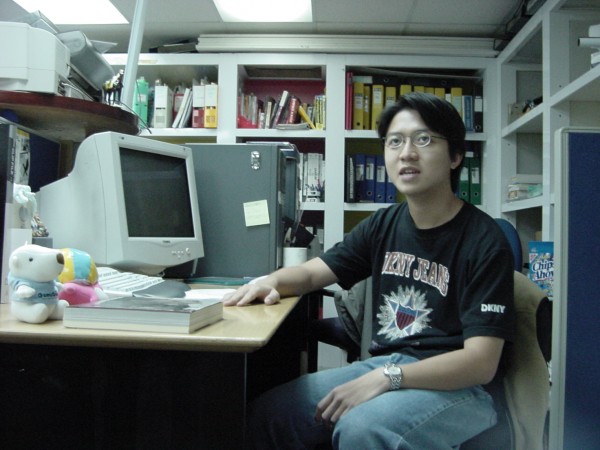 In 2002, Marti quited his job and rented a desk in an industrial building to work on freelance projects and LF2 simultaneously.
A Little Silliness, A Lot Of Passion
Without a stable income and team, just one-man band developing from home, the last 7 years have not been easy. From Monday to Sunday, Marti wakes up at 10am every day and works until 2 to 3 am. Character design, graphic design, game programming, debugging, video editing, and more– all done by him.
"I think I am like a turtle in this entrepreneur road, walking very slowly. Even though the future doesn't always look promising, I don't give up and instead persist thanks to a little silliness and a lot of passion."
In 2009 Marti releases the computer version of 'Hero Fighter', which at first brings him a bit of revenue. But that doesn't last long. The game is eventually cracked by a Chinese hacker group, giving users a way to play it for free. The earned revenue drops to zero almost instantly, leaving Marti quite devastated.
"It left me frustrated for 2 years and made me didn't even want to go out and talk to people."
"I remember one time I saw a magazine talking about my game. Excited, I opened it only to discover that the first page was talking about how to crack my game and play it for free. This made me feel very terrible."
"In fact, being an Indie game developer in Hong Kong is not easy. Many people think you are not being realistic. When I was applying for jobs some companies refused to treat it as an experience. Some will even lower your starting salary because they think that if they hire you, they are saving you. But in the west being Indie will at least earn you some respect. So even if you fail, the cost of failure in the west is much less than here."
One Final Attempt
Two years ago Marti determined to make the game into mobile – his final attempt as an indie dev. Hero Fighter X was released in June, receiving more than 600 thousand downloads in only 3 weeks. Although there aren't very many paying users, the success served to renew Marti's confidence and hope.
"Nowadays, many game developers in Hong Kong and China only look at games coming from the west. They change some of the visuals and release it in a short period of time, making it hard for unique ideas and innovation to grow. My dream is to make a game combining Chinese History, actions and real time strategy, and bring it from Hong Kong to the world."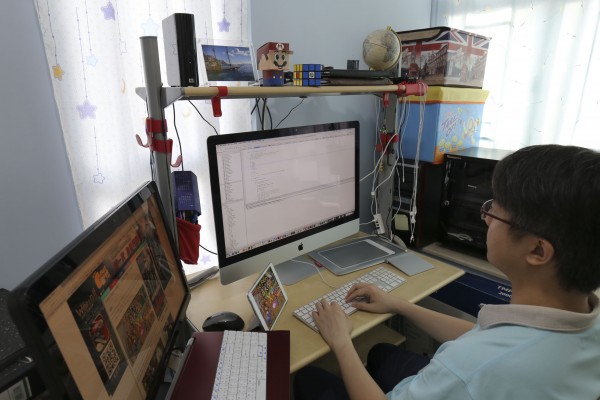 The desk where Hero Fighter X was born
There's no question that Marti is very talented. You have to be to create games all on your own. The question is: how did he learn to cover every aspect of game development?
"In the early days my mom forced me to learn computers. During secondary school my brother brought a computer into our home. At that time a got a teaching floppy disk from my primary school, and inside the disk there were many mini game. I loved seeing the code of those game and learning how to develop my own. If you are interested in programming, you can learn JAVA to learn the basic concepts of programming, then go to UNITY to see some sample code and learn how people write games."
Additional Resources:
JAVA:http://www.oracle.com/java/index.html
UNITY:http://unity3d.com/learn/resources/downloads
Web Design Course: http://mtache.com
To be honest, Marti want to have a team to help him create higher quality games or include more advanced game features like online battle mode. But the top priority is to have enough capital. So at this stage he will focus on improving Hero Fighter X's quality, finding investors, and pushing the game to the West. Marti also wants to get selected to participate in the annual Game Developers Conference in San Francisco, which has recently focused on bringing attention to indie developers.
We wish Marti a safe trip and best of luck on the tough but rewarding road of a Hong Kong indie developer.
Download Hero Fighter X
iOS:
http://appsto.re/hk/kxe14.i
Android:
http://play.google.com/store/apps/details?id=air.com.martialstudio.herofighterx1&hl=en